Ø30 mm Glass Stand-off Bracket with Flat Back, supplied as four removable parts: Head Cap; Back Spacer; Rubber Sleeve and M8 Threaded Rod.
16 grade Stainless Steel Satin Finish, suits Interior and Exterior use
Suitable for 6 - 12mm glass
Fix on flat surface (e.g. square / rectangular tube, wall, timber)
Ø13mm flanged white rubber sleeve, washers
Stand-off distance: 15mm (back spacer with rubber washer)
M8 threaded rod is removable (can be replaced by longer rod or rod suits timber fixing*)
Material: Stainless Steel SUS316*
Finish: Satin Finish
Threaded Stud: M8 x 50mm, removable
Glass Thickness: 6 - 12mm
Hole Drilling: Ø15 mm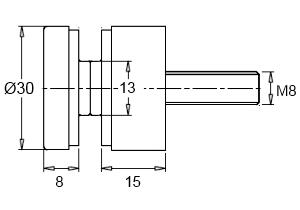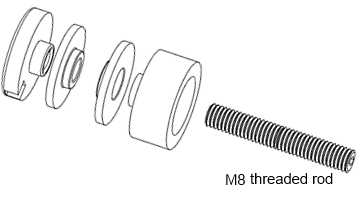 * SUS304 grade Stainless Steel suits internal use; With increased corrosion resistance, the SUS316 grade Stainless Steel can be used for both interior and exterior and is better suited for coastal or more heavily polluted environments.
Please Note: All descriptions, specifications, diagrams, illustrations and dimensions given are approximate and intended for general guidance purposes only. They may be subject to change without prior notice. We make all reasonable efforts to ensure that the contents of this site are accurate and up-to-date, but can accept no responsibility for omissions, errors or subsequent changes.